How to Write a Resume | A Step-By-Step Guide
If you need help writing your resume, you've come to the right place.
How well you write your resume can mean the difference between getting your dream job and Choice D. Nail your resume and you nail yourself more job opportunities. Miss the mark, and you may find yourself applying to hundreds of job openings with no replies back.
Here's an easy to follow, step-by-step guide to writing a truly compelling resume:
An example of a finished resume along with all the
sections that belong on a typical resume:
1. Decide on a resume design
If you find yourself right now staring at a blank page on your computer screen – you've actually already made your first mistake!
The first step to writing an awesome resume is choosing an awesome resume design. Thankfully, there's no need to design your resume yourself because there are a bunch of free resume templates online already that you can choose from. You can pick from over a hundred resume templates here.
Now the obvious question that comes to mind next is – what resume design should you pick?
Part of this comes down to preference, but generally there are two types of designs to consider:
Traditional resume designs – The more popular and "safer" style where there's no color or images
Pros: Most popular, optimized for resume scanners, easily skimmable
Cons: Doesn't stand out
Creative resume designs – Resumes with more color and imagery, sometimes considered "infographic resumes"
Pros: Aesthetically appealing, conveys passion, potential to align with company brand
Cons: Not optimized for resume scanners, can potentially miss the mark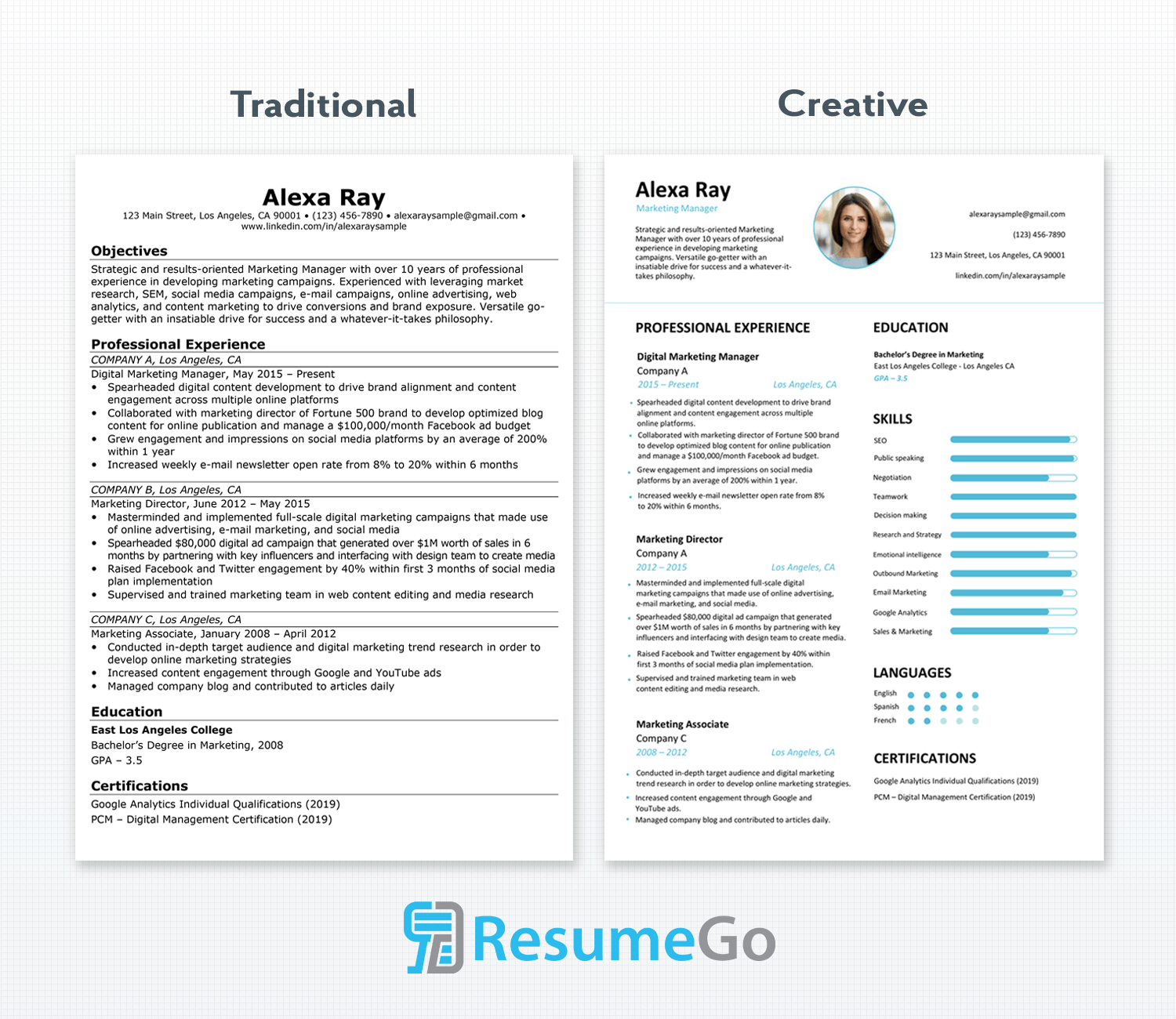 Even though you might find them "visually boring," you usually can't go wrong with choosing a traditional black-and-white resume template. The overwhelming majority of job seekers use this type of design.
However, if you are in a more creative industry such as graphic design, marketing, or fashion, choosing a fancier and more unique resume design can sometimes work as well.
Keep in mind that including a picture of you on your resume is typically not advised, but sometimes done on infographic-type resumes.
2. Pick from three resume formats
Now that you've picked a design for your resume, it's time to decide how you want to organize the information on it.
Resume formats typically fall into one of three categories:
Reverse-Chronological Format
Functional Format
Combination Format
Each format has its own strengths and weaknesses, showcasing different information to prospective employers.
Let's look at each format to decide what's best for you.
Reverse Chronological Resumes
The overwhelming majority of job applicants (90%+) are going to use the reverse chronological format:
You guessed it – this resume format showcases your experience in reverse-chronological order placing your most recent position at the top, progressing through the rest of your positions in reverse order.
This format is effective for several reasons. For starters, it provides a neat timeline of your work history that employers can easily follow. It also provides that timeline in reverse chronological order, so your more recent work experience is mentioned first. This makes a lot of sense because hiring managers are going to care more about what you've worked on recently as opposed to what you've done many years back for older jobs.
The list of positions is not the only component of this resume, however. Like many other resume formats, it has a resume header and personal summary / objective toward the top, as well as lists of relevant skills and other information, often following the list of positions.
While the overwhelming majority of resumes are written in reverse chronological order, this format is not without its flaws
Below are some strengths and weaknesses of this particular resume format that can help you decide if it's the right fit for your needs.
Strengths:
Traditional resume format that aligns with the expectations of most hiring managers
Highlights career progression / promotion
Showcases steady work history
Can help make a strong case for hire if the position sought is similar to recently held roles
Weaknesses:
Gaps in employment become noticeable
Lack of regular promotion is readily apparent
Can create a challenge when seeking a job in a different industry
Those who might best benefit from the reverse chronological resume are those seeking continued employment in their current industry, and who are wishing to showcase a history of upward career progression.
Functional Resume
Unlike the reverse chronological resume, which emphasizes employment continuity and positions held, a functional resume highlights skills and abilities. While this resume format contains many of the same categories as a traditional resume, it inserts the "Skills" or "Areas of Expertise" section toward the top of the document, after the header and summary, and before the work experience.
A functional resume can be excellent for a candidate who has unique skills that help them stand out from other applicants. For example, a multi-lingual candidate, or one with a published column, may want a prospective employer to see that information first.
The list of jobs held in a functional resume is often scaled-down, including only the position title, employer information, and dates – forgoing the summary and bullet-pointed accomplishments found in the reverse-chronological resume. Because this resume format de-emphasizes work history, it draws attention away from gaps in employment, as well as a lack of relevant experience.
For instance, an exceptional employee who left the workforce to start a family may not have held a recent position. However, by leading with their skills, they may still capture the interest of the hiring manger and win a coveted interview.
That said, no resume format is perfect for every need, and there are some advantages and disadvantages to the functional resume to consider.
Strengths:
Employment gaps are less noticeable
More suitable for those changing industries
Allows an employee with an exceptional skill or experience, such as civic leadership or multilingualism, to focus immediate attention on that trait
Weaknesses:
Not as commonly-used
Could be confusing to some hiring managers
Harder to skim
Focuses on skills, which some job seekers might not have too many off
Can leave hiring managers wondering why you didn't choose the far more popular reverse-chronological format
Overall, the functional resume is an excellent choice for applicants who have less developed or less traditional career trajectories, but valuable talents to contribute.
Combination Resume
A combination resume merges the characteristics of reverse chronological and functional resumes, providing an up-front summation of employee skills, followed by a reverse-chronological work history, with details included.
This resume can be particularly well-suited for positions that require specific qualifications, such as a minimum typing speed, or experience with particular software. Additionally, combination resumes are a solid compromise for candidates who have sufficient work history to utilize a reverse-chronological format, but still want to purposefully emphasize their skills.
An additional benefit of using a combination resume is that the skills / qualifications section can be used to reference key words from the position description, without fully scaling back on work history. However, with its hybrid design, it can be hard to keep a combination resume short. Including bulleted skills and responsibility / achievement details in the work history section can become repetitive, so make sure you are including only the most meaningful information when using this format.
Below are some strengths and weaknesses of this highly inclusive resume format.
Strengths:
Allows applicants to emphasize both skills and work experience
Includes a chronological work history, which is familiar to many hiring managers
Weaknesses:
Can become repetitive and excessively long
Does not as effectively disguise employment gaps as a functional resume
Not well-suited to entry-level candidates
Choosing the best resume format for your needs is an important step in setting yourself up for success. Make sure to choose the format that presents you in your best light, whether that's experienced and steady…or…skilled and versatile – or both!
3. Set up your contact information
The next piece of the resume puzzle is adding your contact information.
This might seem reasonably straight forward –but it can get trickier than you may think
While there is certain contact info you should always give, there is also contact info you sometimes want to leave out on purpose in order to increase your hireability.
Here are what info you are required to include, along with what is recommended and optional:
Required Contact Information
Name:
First and last name (middle name is optional)
Tip: Consider using your middle initial, too. Research suggests that using your middle initial in your business correspondence makes you appear smarter to others.
Phone Number:
Your cell phone is generally more appropriate than your home phone number
Tip: Make sure your voicemail box has available storage and add a responsible-sounding message. Unless your applying for Saturday Night Life, a funny voicemail does not leave a professional impression
Email Address:
Employers are likely to contact you first through email.
Tip: Make sure you have a professional-looking email address. Using a Gmail account is fine, but your potential employer does not want to schedule an email with "hellokittygirl845"
Optional Contact Information
LinkedIn URL: The gold standard for online business networkingRecent research we've conducted ourselves found that including a LinkedIn profile on top of your resume increase your interview chances by 71% chance.
Home Address:It's generally recommended to list your home address, but there are situations when it might be better not to – such as if you are relocating or afraid of location discrimination. Here's when you should notput your address on your resume.
Personal Website: Got a personal website? Does it showcase some of your best work? Including a link to it can really show your professionalism allowing you to stand out.
Relevant Social Media: Are you an influencer applying for a marketing role? Add your YouTube link here. Just be careful that the content represents you at your best!
Here's an example of a typical contact information found on a resume:
4. Write a Compelling Resume Introduction
Employers read your resume to determine if you're worth interviewing.
Well employers read your resume introduction to determine if your resume is worth reviewing to begin with.
Hiring managers and recruiters want instant information at their fingers tips – which is the whole purpose of the resume intro – to give a really short and sweet summary of everything you've done.
A strong opener is capable of immediately grabbing the hiring manager's attention and positions you as an ideal fit for the job. This sounds tough, but don't worry – we'll cover examples.
First, you have to choose which type of introduction is right for you. You have five options:
Career Summary
Qualifications List
Professional Summary
Career Summary:
A career summary provides a quick overview of what you've achieved throughout the course of your career.
This snapshot of what you've achieved allows employers to quickly get a sense for what you've done and what you will be able to do.
EXAMPLE:
Career Summary:

Apparel designer with over 5+ years of experience at major retailers. Launched 12 new lines leading to a 12% increase in revenue and a 23% increase in customer fit satisfaction. Expert with Illustrator and PLM software.
Here's another example from our marketing resume
Career Objective
A career objective is the way to go if you're making a career change, coming back to work from a hiatus, or have some weird thing going on that needs addressing.
As the name suggests, the career objective is meant to clarify your career goals.
EXAMPLE
Business Professional with 5+ years of accounting experience looking to make a transition into the financial sector after recently becoming certified as a Chartered Financial Analyst (CFA)
As you can see in this example, the individual is looking to switch fields and go from accounting to finance. In a case like this, including an career objective provides a lot of clarity to the employer
Qualifications List:
A qualifications list is ideal if the position has precise job requirements. Don't make hiring managers look any further than the top of your resume to confirm that you have what they need. Your qualifications list is 4-6 bullets listing your relevant skills, accomplishments, and accreditations.
EXAMPLE:
Qualifications List

PHR/SPHR Accreditation
Expert in policy creation and education
Outstanding Verbal and Written Skills
Fluent in Spanish
Extensive experience with MS Word, Excel, & PowerPoint
Remember, the goal is to call out that you meet their specification expectations. Lead with what they are looking for even if you have more to offer than that.
Professional Summary
A professional summary can be a convincing lead if you have measurable accomplishments in your field. In this format, your resume starts with 4-5 bullets that show quantitative proof of your success. For added impact, start each line with a bolded subheading naming the skill that the data supports.
EXAMPLE:
Organization: Successfully managed up to 60 products at one time

Cost Negotiation: Negotiated an 8.4% discount from suppliers

Team Work: Parterened with Marketing to build new company-wide launch process

Leadership: Lead a team of 8 direct reports and 2 indirect reports
Resume Headline
A resume headline condenses your skills into one short and sweet sentence that immediately summarizes who you are as a professional
It's also the shortest type of opener you can have on your resume
Goal-Oriented Sales Manager With Over 10 Years of Experience
Award-Winning Journalist in Break News Coverage
Bilingual Registered Nurse
Whichever resume introduction fits your experience and expertise, make it impactful.
Following best practices will ensure that sure your lead is a value-add. Remember that numbers speak louder than words, so be specific. Take the time to personalize your introduction with the company name, if possible.
5. Showcase Your Relevant Work Experience
Work experience is the heart of your resume. Everything before that is the opening act, but this is the big show that hiring managers come to see.
Note that if you have no work experience and need to make a resume for your first job, you'll want to get creative with what to put here.
Work Experience Formatting:
Your formatting should be uniform and legible. Each past position should be listed in reverse-chronological order and include this information:
Job Title: This piece of information should be at the top. Make sure it stands out to by using bold font, increasing the font size, or capitalizing.
Employer Name, Location: The second line houses all the information about the employer.
Employment Dates: Next, you want to include the dates you worked in this role. You don't need exact dates, but you should include the month and the year. If you are still at your current position, use "present" instead of an end-date.
Key Responsibilities & Achievement Bullets: List 3 to 5 per position. Focus on your most relevant job duties and your achievements in the role.
EXAMPLE:
INTEGRATED MARKETING MANAGER

Hopscotch Software, Los Angeles, CA

Sept 2017 – Jan 2020

Created 17 successful integrated launch campaigns in just over two years
Partnered with product owners to build audience segmentation that resulted in a 7% increase in email engagement
Lead digital channel optimization for a 21% increase in spend efficiency
Improved website conversion by 2% through landing page improvements
Highlighting Responsibilities & Achievements:
The way you write about your work experience significantly affects its impact.
Each bullet should include:
An action verb
A specific and relevant duty or accomplishment
Quantitative data to support your success
You want to avoid repeating the same tiered descriptors "responsible for" or "in charge of" on each line. Using active voice and powerful verbs make your resume more dynamic to draw in the reader. Let's look at an example.
HOW NOT TO:
Responsible for email lists
HOW TO:
Led the optimization of email lists resulting in a 13% increase in open-rate
Resume Tip: If you have a great deal of experience, you don't have to cram it all into your resume. You do not need to list more than 15 years of experience. In some cases, you can edit down to only relevant experience.
Customizing Your Experience For The Position:
Today most companies use applicant tracking systems to filter through the high volume of resume submissions. These systems use keyword scanning to determine if the applicant is a fit. If you have the experience but lack the keywords, you might get overlooked.
Resume evaluation software makes it essential to customize your experience to the desired position. Review the job posting, carefully noting the requested skills as well as the terms and verbs used. Then, go back and tailor your resume to highlight these skills using similar language as the job post.
Make sure you don't keyword stuff or copy entire sentences and phrases. The writing needs to be unique and natural. Once your resume passes the ATS, a human will still review it. If a resume is awkward, too rigged towards the system, or unreadable, you will not be considered for the job.
6. List Your Education
Here's where you show employers the foundation of your skill and expertise.
First, you must decide where the education section will live in relation to the work experience section. For job applicants well into their careers, they will have built up a sizable work record and will likely want to lead with it in their resumes.
On the other hand, if you're a college or high school student or just recently graduated, you likely don't have much professional experience. In that case, you should lead with your education by placing it before the work section. The point here is to mention the most important things first.
When listing degrees and schools, start with your highest degree attained and then list the rest in reverse-chronological order. For each school or degree, here are the details to include:
Name of institutions attended
City, State of each school
Month, Year of graduation (if applicable)
Degrees or certificates earned
Grade Point Average (consider dropping this if it's below 3.0)
Relevant coursework, honors, awards, or major accomplishments
Three common questions in regard to listing education on a resume include:
Should I include my GPA?
It depends – if your GPA is above the job requirements or higher than 3.4, it can be beneficial to include. Any lower though, and it's worth consider leaving out. Also, the more work experience you have, the less important listing your GPA becomes.
Should I include my college degree if it's unrelated to the job I'm apply for?
Yes – it's generally better to show you have a college degree as opposed to none at all, even if that degree is unrelated. Something here is better than nothing.
Is it okay to include an educational degree or certification if I am only in the progress of obtaining it?
Yes – just be sure to explicitly state when you are expected to get the degree or certification you are including. Provide a date with the words "in-progress" or "expected" alongside it.
7. Include Your Hard and Soft Skills
A brief, carefully tailored skills section on your resume shows employers how you're uniquely suited for the job you're applying for. Through your education and past jobs, you will have acquired a host of hard and soft skills relevant to the positions you're now applying to.
What are hard and soft skills?
The best skills sections will balance hard skills with soft skills and together they make up your skill set, or the list of abilities and specialized knowledge that employers want to see on your resume. While including them in your resume doesn't prove you actually possess those skills, the section nevertheless allows the employer to assess you more accurately as a potential candidate.
Hard skills are teachable abilities that can be measured or quantified in some way. These are technical abilities that you learned or honed for specific jobs or tasks. Perhaps you were taught these skills directly in school or on the job.
Here are some examples of common hard skills from various professions:
C+/C
Bookkeeping
Photoshop CC
HTML/CSS
Public Speaking
Content Management Systems
Foreign Languages
Google Analytics
Graphic Design
GAAP
Soft skills tend to be much broader and less easily defined or quantified. They typically form attributes of your personality and demonstrate to employers how you'd fit into company culture. For example, being a team player or having good communication skills would be examples of soft skills.
Teamwork
Communication
Creativity
Problem-Solving
Adaptibility
Detail-Oriented
Leadership
Time Management
Interpersonal Skills
GAAP
How do you format the skills section?
This section of your resume is usually written out as a list.
The first step is to come up with a comprehensive list of all the hard and soft skills in your arsenal.
Then go through your list and identify which one of these skills are relevant to the jobs you are applying for. These will be the ones worth listing on your resume.
Let's look at some examples:
Example 1: Digital Marketer Resume
Notice how with this creative resume format you're able to showcase your level of proficiency for each skill with a graphical bar.
Example 1: IT Manager Resume
A multi-column format for listing your skills is one of the most common methods used.
Example 3: Mechanical Engineering Resume
For technical roles where you have a plethora of various skills, this format allows you to group your skills under different categories.
8. Mention Additional Resume Sections(Optional)
We've covered the essential sections that should belong on your resume.
However, there are other resume sections that you should consider including.
As you determine what else to include on your resume, consider some of your best professional accomplishments, any certifications you may hold, or any activities you've participated in.
Remember, your resume is your place to shine! Expand upon the details that make you…you. To help you get your creative juices flowing, here are some resume sections options below to consider adding:
Certifications, Awards, or Licenses
If you're looking to really knock the socks off a potential employer, don't forget to include any certifications, awards, or licenses on your resume that are relevant to the position.
Showcasing that you've been recognized for your skills by a reputable source will further accentuate your abilities and "wow" any business. Additionally, certifications not only prove you know your stuff, but they also demonstrate to recruiters that you're dedicated to staying up-to-date on best practices for the job.
Publications
Nothing convinces hiring managers that you're the real deal more than visual evidence of your professional abilities. And if you have any published work for a news outlet, educational journal, or other publication to bring to the table, now's your chance to show it off.
Be sure to place links to any publications prominently on your resume. If your work was published offline, add a short summary of what you wrote, who published your work, and where it was published.
Side Hustles and Hobbies
If you run your own business on the side, make sure you highlight your side hustle accordingly. Most employers will notice your entrepreneurial spirit and appreciate your ambition for success.
Don't have a side hustle? Don't sweat it! Consider listing some of your favorite hobbies on your resume instead. While hiring managers won't necessarily be interested in what exactly you do in your spare time, they will focus on whether your hobbies involve valuable traits like teamwork, critical thinking, or problem-solving.
Languages
With more businesses moving away from the in-house office experience and expanding their reach overseas, your bilingual capabilities are more valuable than ever. If you speak another language or two, include those skills on your resume. To give employers a better sense of your abilities, take things a step further and specify your skill level or fluency with each language, too.
Volunteer Work
Do you enjoy spending some of your free time volunteering? No matter what cause you're passionate about, think about including it on your resume. Volunteer work is a great way to show employers your passions go beyond earning a paycheck, and that you'll likely carry that same drive into the workplace if you're hired for the role. Plus, for those who don't have much work experience to include on the resume, volunteer work can serve as an excellent alternative, too!
9. Edit and Save Your Resume
Double-check, triple-check, and then quadruple-check everything on your resume.
Once you're done reviewing everything yourself, ask a friend or family member to check.
Remember, even J.K Rowling herself has an editor reviewing the Harry Potter books she writes, so you should have people looking over your resume as well!
Keep in mind you can also use online resume tools to scan your resume and provide you with valuable feedback on how to improve it. There are also online resume critique communities such as Reddit's resume help subreddit that can offer you feedback. Just be sure to anonymize your resume before posting your resume up.
Here are 3 things in particular to look out for:
Typos
Even if you're the most qualified applicant for the role, silly mistakes like typos can quickly turn-off hiring managers and cause them to pass over your application.
Review your resume for any misspelled words or incorrect uses of words. If you're not entirely confident you'll catch every typo, consider running your writing through a free app such as Grammarly to be sure you catch every spelling issue.
Broken Links
Including links on your resume to other work examples or even an online portfolio is a highly-recommended way to stand out as an applicant.
But, before you submit your resume to a job posting, double-check all links are both working and direct users to the correct page. Webpages commonly get moved around, and failing to check your links won't do you any favors.
Formatting Issues
While the content of your resume is important to any employer, your editing efforts should also go beyond what you say.
Like typos or linking errors, any formatting issues will leave a sour taste in a recruiters' mouth. Make sure your resume is visually pleasing and fix any awkward spacing issues, illegible font (here's the best 10 resume fonts to use), or colors that make your writing difficult to read. A resume that's both easy on the eyes and strong in terms of content is the perfect combination to stand out from the competition.
10. Saving Your Resume
Should your resume be saved as a Word doc or PDF? To be honest, it likely won't matter. ATS software should be able to read either format as long as your resume doesn't contain unnecessarily fancy formatting tricks.
If you save as a Word file, save it as a .docx instead of the outdated .doc file type.
If you save as a PDF, be sure to check your resume after you've saved it. There is the slight chance that the PDF version will look slightly different than the Word file you were originally working in – so just beware of this when reviewing
Once you've saved your resume and checked it over, you're ready to start submitting it to employers.
BONUS: Things to Keep In Mind
Your resume may be done, but that doesn't mean there aren't ways to improve it. Here are some things to look out for as well as tips and tricks to take your resume to the next level:
Resume Tense
What tense to use on your resume can get tricky. The general rule of thumb is to write everything in past tense for things you've done in the past and to write in present tense for everything you're doing now.
This usually means your current job position (if you have one) will be written in present tense, while everything else will be written in past tense.
Resume Writing Services
We get it – writing a job-winning resume can be super duper difficult. That's why there are countless articles, examples, tools, and resources all offering resume advice.
Sometimes, if the going gets too tough, it's better to seek professional help. This is where resume writing services like ours can come in handy. Resume services have professional writers who actually craft your resume for you from start to finish.
Of course, resume services can be a large investment, so it's important to weigh the pros and cons of going with one. Keep in mind, resume services are not all created equal. Some will bring out the best in you while others are not even worth it. Our list of the best resume writing services can help you decide.
Resume vs CV
Resumes are used by employers in the United States and Canada whereas CVs are more common in other parts of world like Europe. You should learn the differences between CVs and Resumes if you aren't entirely sure which one you need.
More Than One Resume
Sometimes it's beneficial to have references available upon request" on a resume. This is not true though, and employers will typically ask for references later on in the hiring stage during or after the interview process.
Conclusion
Impressive! You've made it through. Give yourself a pat on the back because crafting a well-written resume is no small feat. Hopefully with this guide, you've really familiarized yourself with the resume writing process and what it takes to set yourself up for success during your job search.
Our most recommended resume resources