Free Resume Templates
Pick from over a hundred resume templates below to ease your
resume writing process
. Each resume template can be downloaded as a Word document and modified to create your own resume.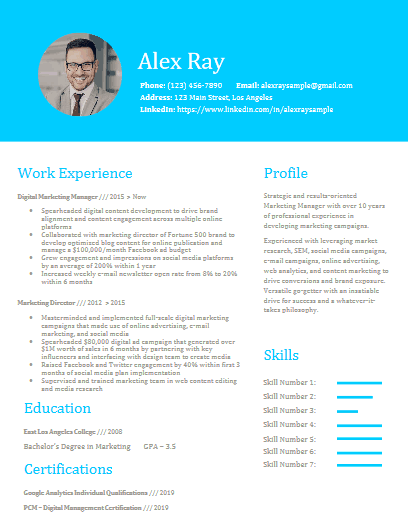 How to choose the best resume template
There's a lot of questions that race through our minds when deciding on what resume template to use: What font works best? Should I go with a more standard resume format or choose something more unique? What font-size is best? Is the template optimized for applicant tracking systems?
There's over a hundred resume templates on here alone to choose from – so how exactly do you decide which resume template to ultimately use for your resume?
Consider your industry and field
What company you're applying to, the job position you're after, and the industry you're in can heavily impact what resume template you should go with. Remember, each industry and company has a specific work culture that you'll want to consider.
If you're applying to more traditional corporate jobs in fields such as accounting or finance, it's usually better to play it safe and go with a traditional black and white template with standard font and headers. The more professional the better here. However, if you're gunning for a position at a quirky startup or you're in more creative industries like the entertainment business, graphic design, or marketing, you might actually find more success with a creative resume that matches your personality and showcases more of your creative side.
Use an easily customizable template
Remember, simply having a resume template doesn't mean all the work is done for you – it's here to make the writing process that comes afterwards easier. So with that in mind, make sure you pick a resume template that you're completely comfortable working with and making changes on. All the templates from this page are docx Word files. All of them should be easily customizable with very basic and intuitive design techniques used.
If you decide to go with a resume template created with a program such as Photoshop or Illustrator, be aware that these templates will typically be much harder to change unless you are very well-versed in those particular graphic design software.
Select an easy-to-read and common font
While you may be tempted to go with a super fancy and unique font in order to differentiate yourself from the competition, it's actually heavily recommended that you stick with the tried-and-true font families that everyone uses: Calibri, Cambria, Arial, Times New Roman, Georgia, Helvetica, Arial, Arial Narrow, Garamond, Didot.
The reason why it's so important to stick with these fonts is because applicant tracking systems can only process certain font families. If you choose a font that's unfamiliar to these resume scanners, then there's a chance your resume won't even be readable. As a result, your resume may be tossed aside and given a very poor grade.
That aside, classic fonts are some of the most easy-to-read fonts out there. Hiring managers and recruiters only spend a short period of time skimming over your resume. For practicality reasons, they're going to want your resume to have a font that allows them to easily skim through your resume and digest information quickly, and the classic fonts allow them to do just that.