Our 4 Step Process
Here's how we level up your resume, one step at a time!
01
Fill out our online form
After placing your order, you will be directed to fill out our online form asking for information about your industry, career goals, availability, and current resume.
This helps us learn more about what you've done so we can assign an appropriate resume writer to you.
02
Work with your writer
You'll be assigned a writer within 24 hours upon completing your form. You will then have the option of having a phone consultation with your writer and talk about your career goals and work experience.
03
Receive your new resume
Once your resume writer has gotten to learn the details of your work experience and career goals, your writer will go ahead and create the first draft of your resume.
Continue working with your writer afterwards until you've received the perfect resume that highlights your greatest achievements.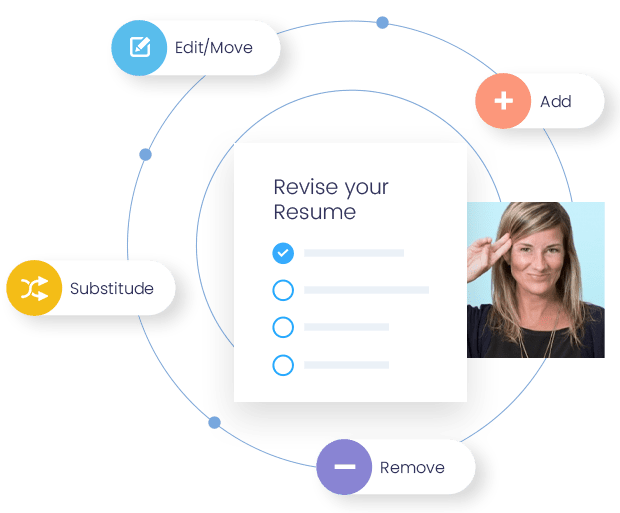 04
Revise Until Perfection
Once you've received your new resume, feel free to continue working with your writer until it's just the way you want it. With your new resume, you'll be positioned to get more job offers and get hired quicker.
Job Seekers Love Us!
See what our past clients have to say about us.
Kelly C.
Fresno, CA
---
IT Manager
15 years experience
I've always written my resume myself, but I thought it'd be worth a shot this time having it professionally written instead. After reading over the new resume and comparing it with the old one I used to use, I was blown away by the difference.
---
Kelly C. // Fresno, CA
IT Manager – 15 years experience
Purchased: PROFESSIONAL RESUME PACKAGE
David J.
Braintree, MA
---
Business Professional
11 years experience
I have working experience in many different fields so it was particularly hard for me to consolidate my resume in a way that would pass through the hiring software that companies are using. ResumeGo did a great job in doing that for me and I would definitely recommend their services for anyone with this similar issue.
---
David J. // Braintree, MA
Business Professional – 11 years experience
Purchased: PROFESSIONAL RESUME PACKAGE
Clarence M.
Waco, TX
---
Graphic Designer
7 years experience
I picked ResumeGo over the other resume writing services because I saw that they offered a money back guarantee which no other service offered. I was relieved to find that my expectations were exceeded. Three weeks after applying to jobs with my new resume and LinkedIn, I ended up receiving job offers from multiple companies I've been aiming for.
---
Clarence M. // Waco, TX
Graphic Designer – 7 Years Experience
Purchased: PROFESSIONAL RESUME PACKAGE